HomeAway V12 and Beyond Pricing
Connecting your account
This is an assisted integration. Please fill out your information using the Connect your V12 Account Form and our Integrations Team will help you get your account all set up
Customization in Beyond Pricing
With V12, you will have access to adjust Minimum and Maximum Prices and Last Minute Discounts directly in Beyond Pricing.
See article What can I do in the Customization Tab? for a broad overview.
Adding a listing
Once you add a new unit to your V12, you will need to grant Beyond Pricing access to that unit, so that we can push prices to it.
Making units visible in Beyond Pricing
Login to your Administrator Panel using this link: https://secure.instantsoftwareonline.com/StayUSA/admin/wfrmCustomerLogin.aspx
Choose ​"Marketing and Service Partner Management"​ from the main menu.
Click on the radio button next to ​Beyond Pricing​.
Click on ​"Show Properties​". ​Select all new properties by checking the checkbox in the grey bar, or select individual properties by checking the box beside the desired unit.
Click ​"Save Changes"​ to submit choices.
Click on ​"Main Menu"​.
Add BP Feature / Create BP Unit Type
Login into your V12 account.
Select "Owners & Units" then "Unit Search".
On the Unit Search screen

Type the name of the unit you are searching for
Hit "Enter" or click "Find Now".
Click on the unit you wish to edit.
Then:

Go to the "Features" tab
Scroll down until you find "BP". On this, select "BP" as the value
Click "Save" on the top right corner.
Make sure that the new "Rate Unit Type" ends in "BP". That means that the BP feature is now enabled. Copy the new "Rate Unit Type" since you will need it for the next step.
Change the Season Group of the new Unit Type
Select "Owners & Units" then "Unit Type Search".
Click "Find Now" on the right corner of the screen.
From the results, find the Unit Type Name that you've copied in the previous step 6.
On the "Rate Unit Type" screen:

Select "BP" from the "Season Group" dropdown menu
Click "Save".
Confirm that everything is good to go. Head to the "Unit Search" screen again, search for the changed unit, click on it and verify that the "Rate Unit Type" ends in "BP" and that the Season Group is set to "BP".
To have a new listing or any other changes in V12 show up immediately, simply refresh your account in your Connected Accounts tab like this: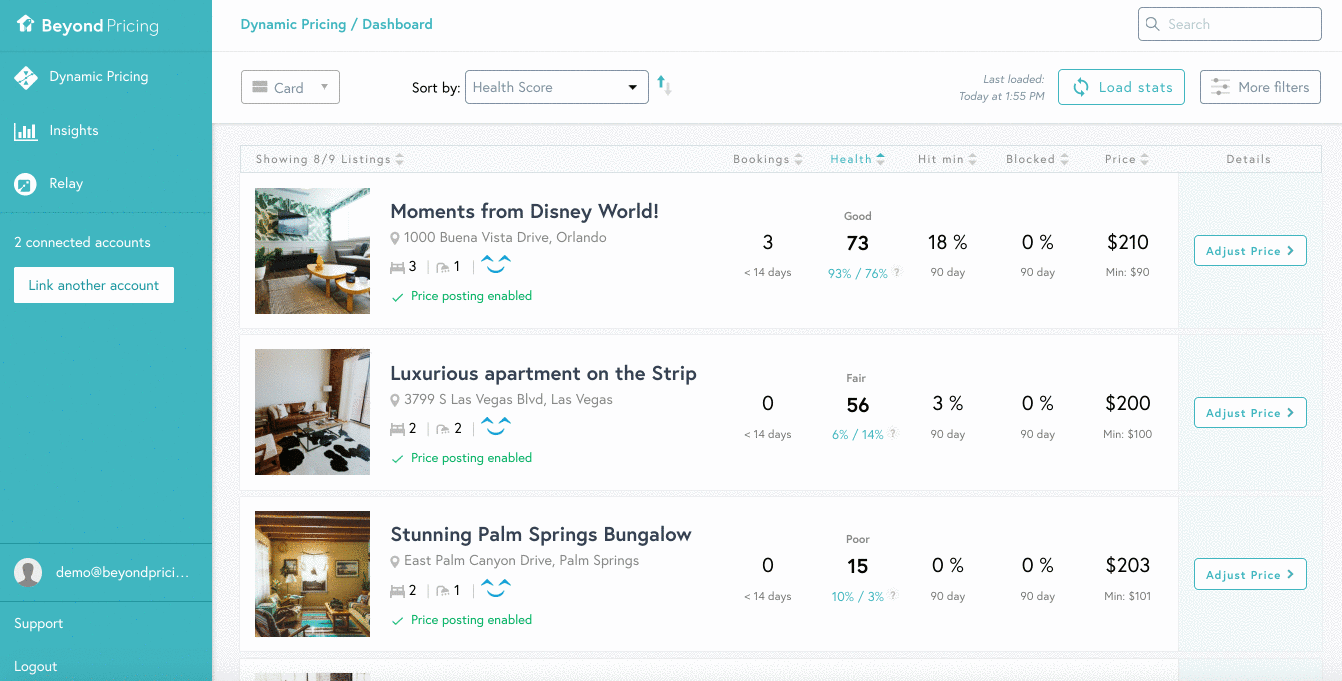 Click here
to learn more about when we refresh your account and why.
Troubleshooting
We don't often experience issues with this integration. However, if you are here, it's probably because you ran into an issue!
Please reach out to support@beyondpricing.com. Our Support Team is always happy to answer your questions and help ensure your account is running smoothly.
---
---