How do I manage permissions/additional logins for my team in Beyond Pricing?
With Beyond Pricing, you can add and manage team members with varying permissions in Account Settings - Team Permissions. 
Levels of permissions & what they mean 
Give your team access to only the information they need in Beyond Pricing. Additional members on your account can have the following permissions:
Admin: Admins can edit all listings and have access to view and adjust all user settings. Admins also receive confirmation emails for all bulk actions.
Edit all: Team members with "Edit all" access can, of course, edit all listings. Unlike admins, they do not have access to any information under user settings (including Credit Card and Billing information). These members receive confirmation emails for bulk actions.
View all: These team members can view all listings, but cannot adjust pricing or settings. 
Custom: Specify certain listings for which this team member can have view or edit access.
Finally, the primary admin (probably you!) is set to the email under which your Beyond Pricing account was created. This team member will receive all billing emails and confirmation emails for bulk actions, has access to adjust account settings, and can edit all listings. If you'd like to change your primary admin email, please reach out to support@beyondpricing.com, and we'll be happy to help you. 
Adding a new team member
Adding a new team member to your Beyond Pricing account is easy (and free)! Here's how to do it:
Navigate to User Settings > Team Permissions
Click "Add new credential"
Enter the new team member's email address and select their permission level
Click "Add"
We've added our first new team member below. Dive into Account Settings - Team Permissions and check it out!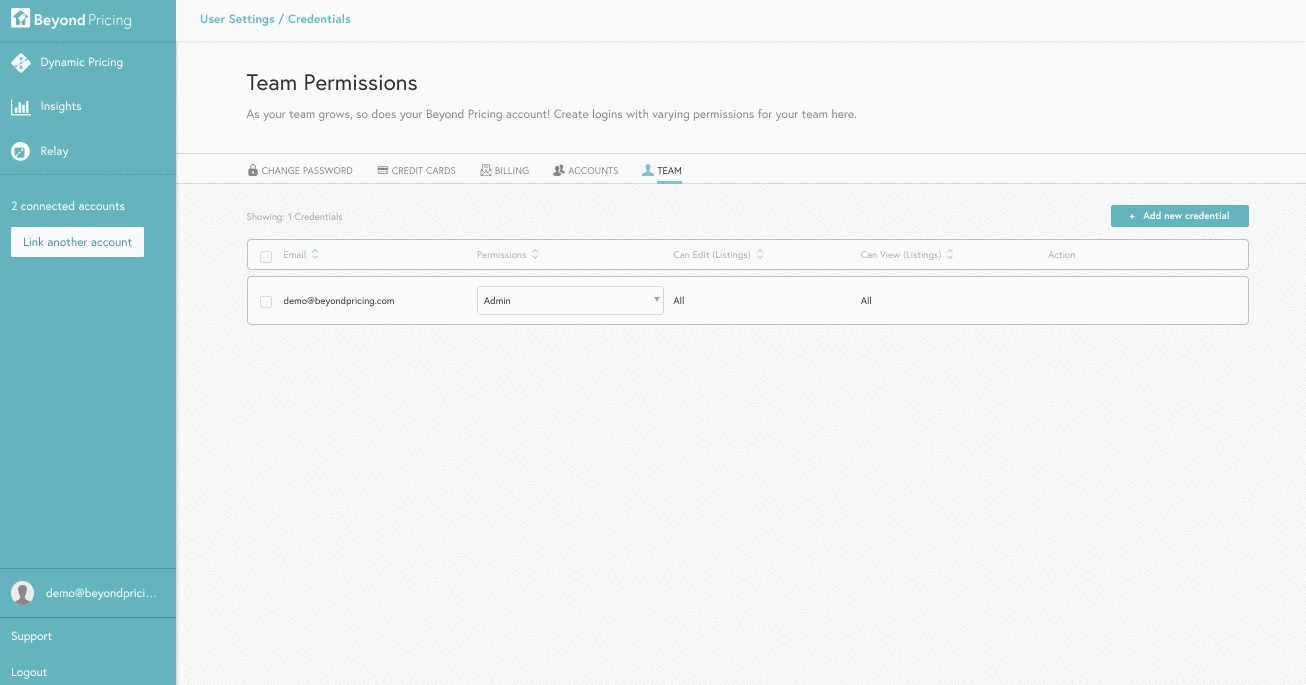 Adjusting a team member's permissions
To adjust a team member's level of permission, simply select the new permission level in the "Permissions" column and click save: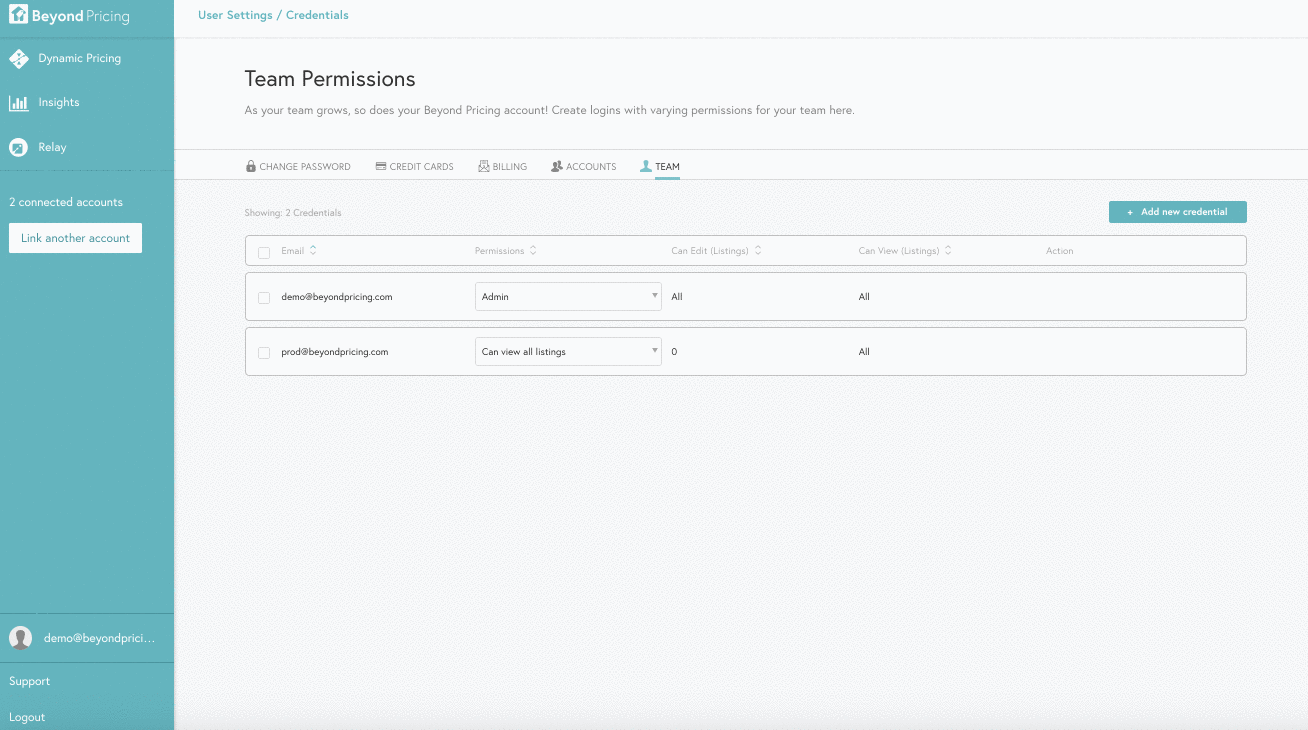 Viewing and adjusting custom permissions
Click "Custom Permissions" to view the listings that team member can view or edit: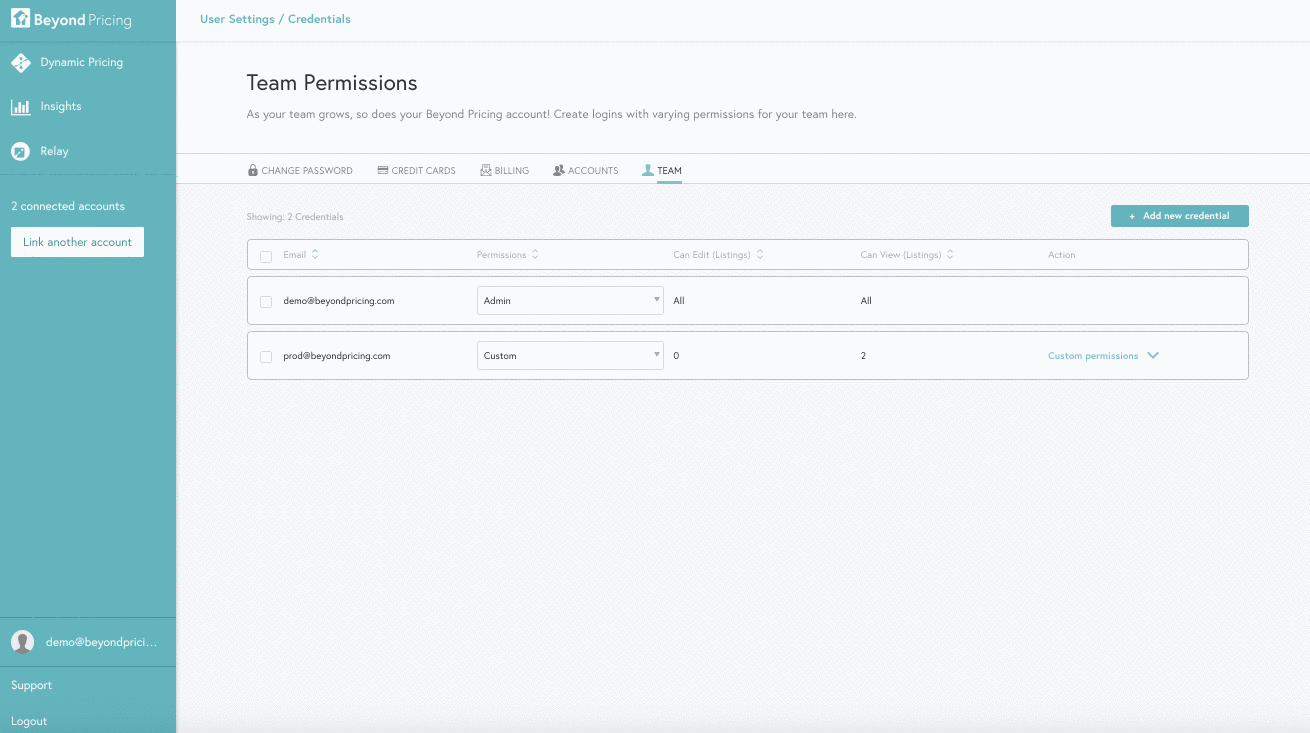 Select one or many listings to remove that team member's access to or adjust level of access to certain listings: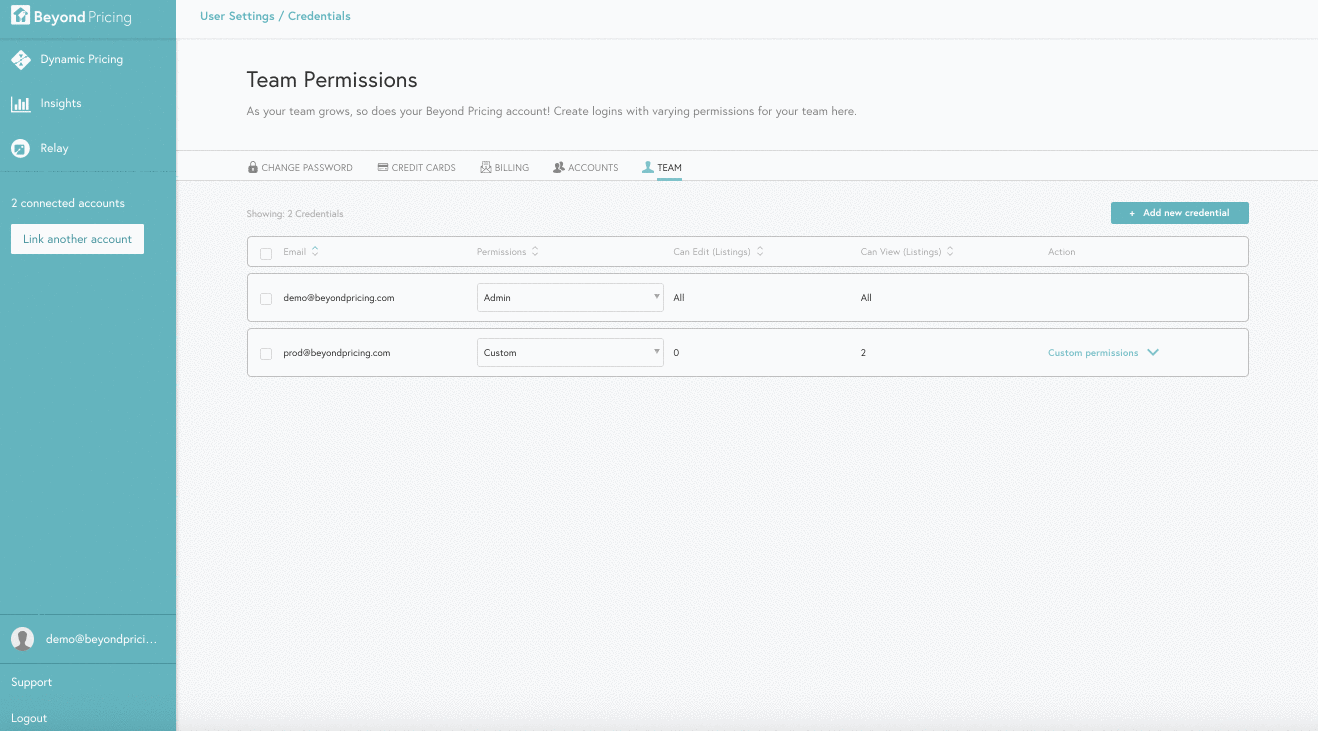 Click "Add permission" to grant access to new listings: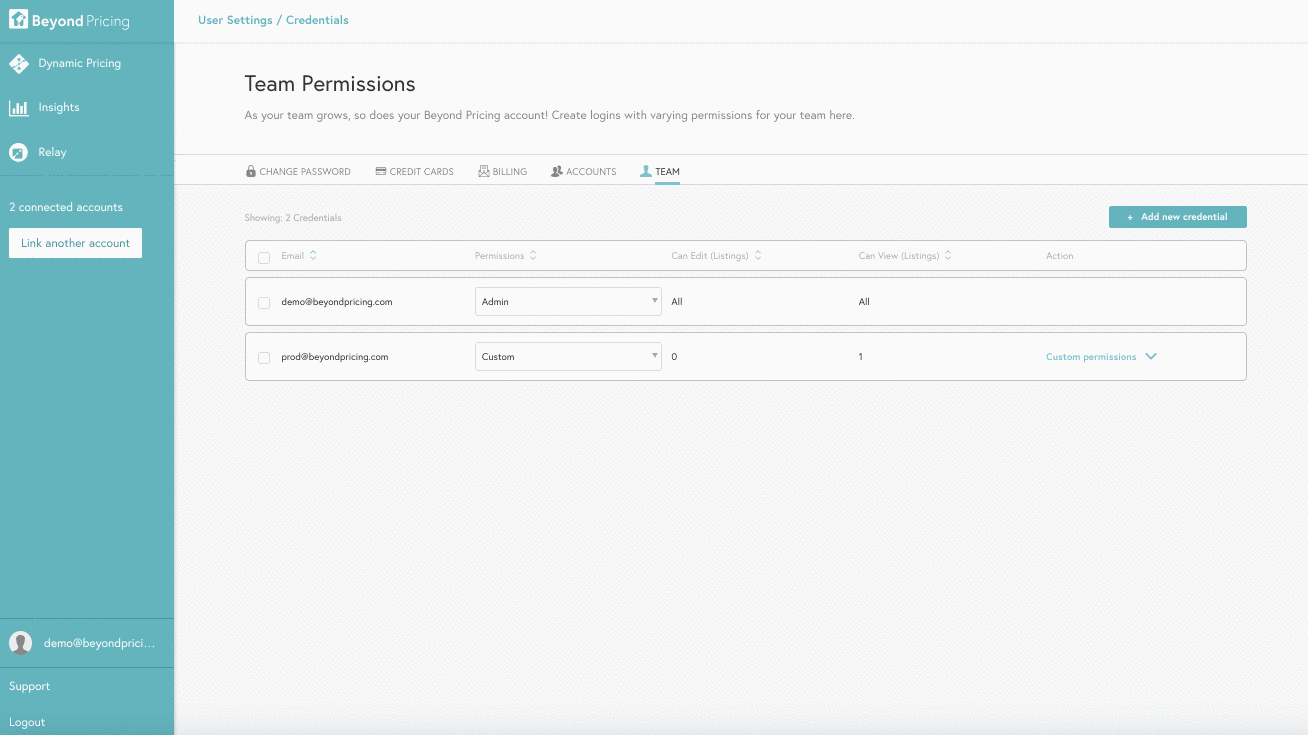 Deleting a user
Select the checkbox next to their email and click "Delete" to delete a team member: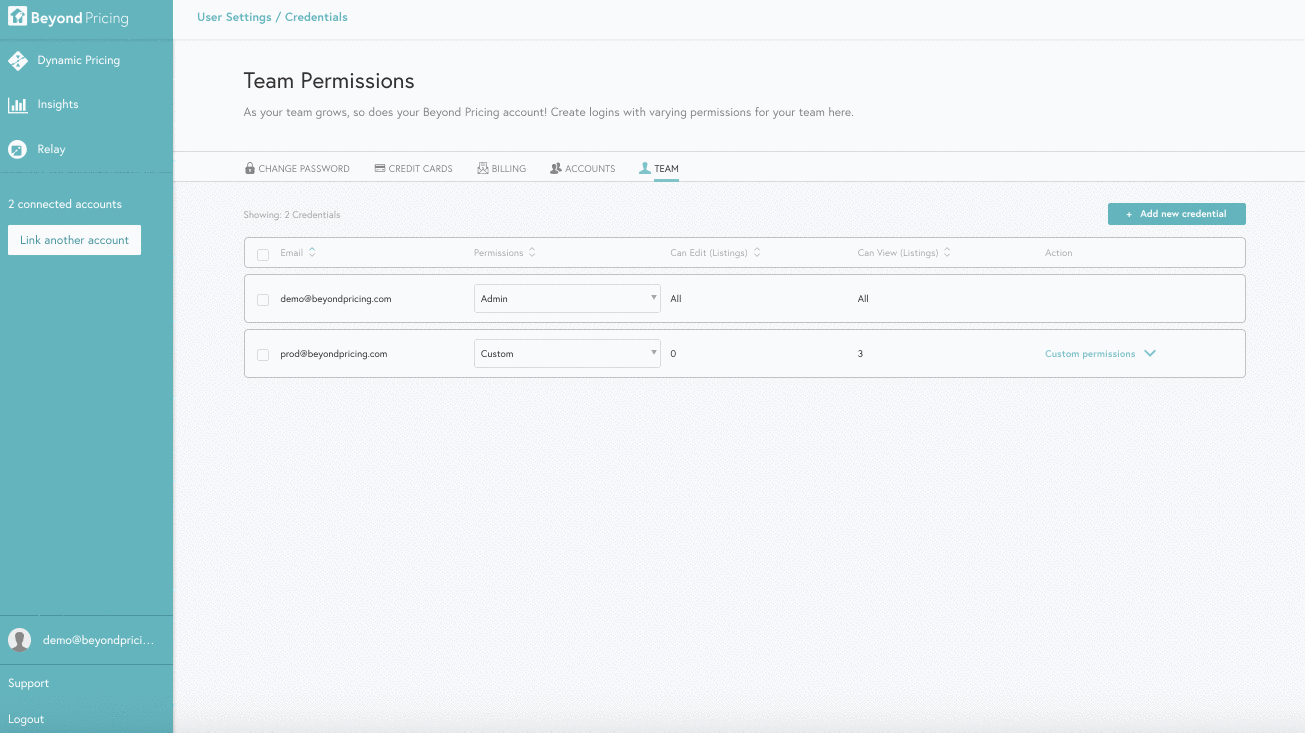 Restoring a deleted user
After deleting a team member from your account, you cannot undo this action. To add the team member to your account again, simply create a new credential using their email address in Account Settings - Team Permissions. 
If you would like help with this, please reach out to support@beyondpricing.com and our team will be happy to assist you. 
Changing my login email
You cannot edit the email for a team member. To change the login email for one of the credentials on your account, we recommend creating a new team permission under the member's new email address.
If you are the primary admin and you'd like your Beyond Pricing login email, please reach out to our team at support@beyondpricing.com. We're happy to help!
Check out our article Reset my login email for more information. 
---
---