How do I create and edit property groupings in the admin?
Group similar properties together, allow visitors to search for properties within this grouping, and promote these unique groups using the Custom Groups feature.
Log into the Booking Engine Admin - ex - https://websiteURL.com/vacation-rentals/admin
Navigate to Custom Groups
To create a new group, click "New Custom Group" button at top left of screen, or select an existing group to edit it.
Info tab
Custom Group Name - If you are creating a new custom group, add the name of the group.
Slug - add the slug name to match the name of the group - all lower case, (-) between words
Sort Order - if you are creating multiple groupings, you have the option to sort how they display on the custom group page. The numbering starts with 0.
Visible in Navigation - *disregard, this option is no longer available.
Display in Custom Group List - check if you want this group to appear on the custom group page, otherwise leave it unchecked and it will not display on the website.
Hit "Save"
SEO tab
The SEO defaults are listed below. Choose to use these or custom SEO.
For more information on how to manage SEO defaults, click here.
Page Title: Displays on the title of the browser page.
Page H1: This is the title that displays on the Property Page
Page Keywords: Enter keywords specific to this page.
Page Description: Displays this description of the search engine pages
Hit "Save"
Images Tab
Add specific images to the group slideshow on this tab. If you do not upload an image, it will display the first image of every property assigned to the group.
Select the "Upload" tab seen below.
Drag and drop images into the provided box and hit "Save".

If the image uploaded correctly, you will see the appear in the "Images" tab to the left.
If it did not load, then check the image size. If it exceeds 2mb, you will need to make it smaller and try again.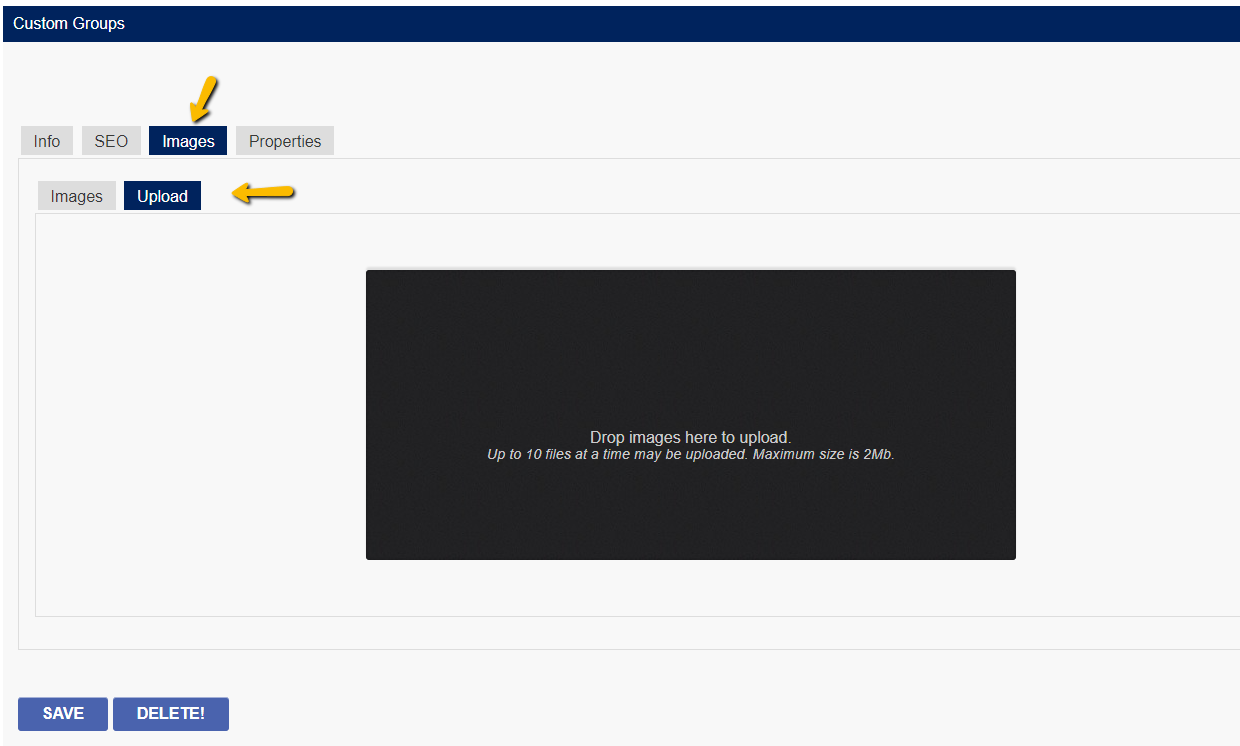 Properties Tab
Available Properties - Add properties to this group easily by selecting the properties from the "Available Properties" list. *If you do not see it there, then that means it is not coming through from the API.
Selected Properties - simply click the name of the property to remove from the grouping.
"Save" button
Before exiting out of the custom group set up, always hit "Save" to ensure that your changes have been submitted.
"Delete" button
if you no longer want this custom group select "Delete".
---
---