How to complete Booking Reports
For our professional users that have an agreement in place with Beyond Pricing, your Customer Success Manager (CSM) will periodically provide you with a Booking Reports. If you are a professional property manager interested in an agreement with Beyond Pricing, please reach out to support@beyondpricing.com
Booking Reports are a critical component of your revenue management strategy and it is imperative that you either accept or deny the recommendations provided.
Steps to Review Booking Report
You will receive an email notifying you that a Booking Report is waiting for your approval in your Beyond Pricing dashboard. Click the link in the email to view the suggestions.
How do I review the suggestions?
On your dashboard, you will see the suggestions waiting for your approval. They will have a message saying "Needs Review" on the right-hand side. Additionally, if you ONLY want to view the units where suggestions have been made, you can click the checkbox at the top of the page, "Needs Review."
Click the "Review" button on the right to see and approve or reject them:
How do I reject suggestions?
When rejecting a suggestion you will need to input a comment as to why you are not accepting the Base Price suggestions.
Example reasons for rejecting a suggestion:
No longer managing this property. (In this case, the next step should be to disable price syncing on the unit)
Owner would like to keep pricing high
IMPORTANT: These suggestions are made from the available booking and occupancy data we can see for each unit. However, as the property manager, you may have additional context that the data doesn't provide. For example, maybe a unit hasn't taken any reservations because the listing is temporarily unavailable on all of your OTAs. In this instance we may have recommended a decrease to the base price because no bookings have come in over the last few weeks.
For this reason, it is important to review the suggestions before approval in case there is a reason for it to be rejected.
Accepting suggestions in Table View Mode
By switching to Table View in the dashboard you can see multiple suggestions at once and approve or reject them. This is the recommended way to review the booking report if you manage a large number of units in Beyond Pricing. You can use the "check" or "x" on the far-right to approve or reject suggestions made for each individual unit.
Time-Saving Tip: We recommend using this view to quickly scan through units with additional circumstances in case you need to reject any suggestions for them. From there, you can quickly approve the rest needing normal adjustments. You can also use the "Approve All" button in the top-right corner above the table to accept the rest once you have rejected any that you need to.
What to do after addressing all suggestions
Please click "Complete & Finish" once you have reviewed all suggestions.
You will now see the results of past booking reviews in the "Previous changes" section for each listing.
Once you have finished reviewing the Booking Review you will receive a confirmation email.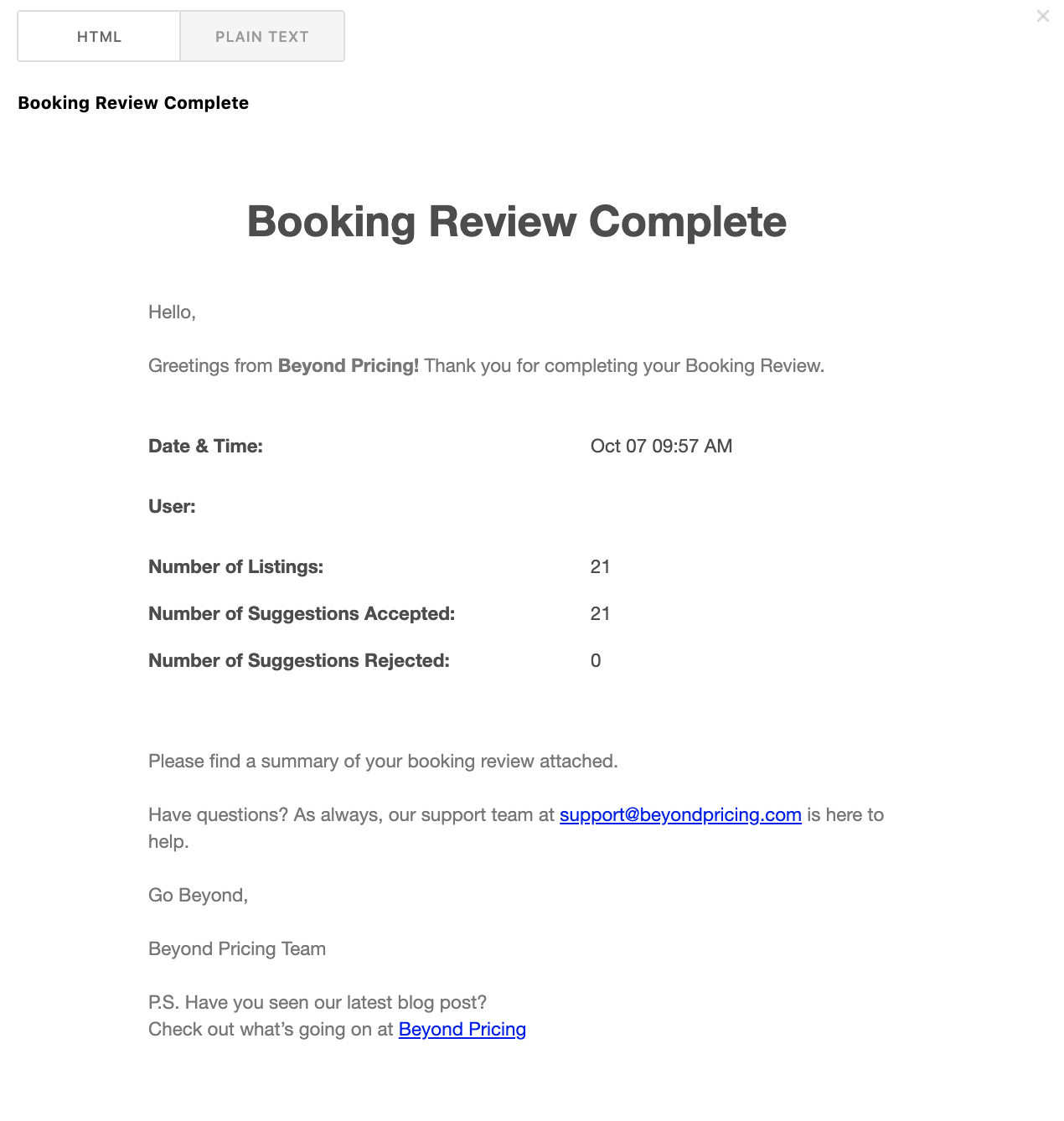 ---
---