Tips for Owner Conversations
We've compiled a list of common questions Owner's Relations managers receive from owners about how dynamic pricing will impact them.
Show Your Owners the Data
Beyond Pricing gives you the data to educate your owners on why our prices are set the way they are. As you adapt daily to a changing environment, using data-driven, intuitive tools to inform pricing decisions is paramount to driving bookings and, ultimately, retaining owners.
We encourage you to share with and show your owners how dynamic pricing responds to market changes and adjusts prices automatically. This automation and real time understanding of market shifts provide you with the quick action and visibility you need in this uncertain environment.
By sharing examples of your market data, highlighting occupancy information and explaining how you are adjusting pricing strategies, you will build confidence in trust with your owners. Additionally, if a strategy needs to be adjusted, the hard work of explaining the reasoning to the owner will already have been done.
Ask Your Owners What Their Expectations are for Pricing and Occupancy
When implementing dynamic pricing or changing your pricing strategy we recommend you survey your owners to get their opinions on rates and occupancy. Below are a few sample multiple choice questions you can ask:
As an owner, I would like to be involved in pricing discussions:

Rarely - Please manage my home and maximize my revenue
Occasionally - Only for consideration of deep discounting
Regularly - I want my home to stay at a consistent price with little changes in the rate
What best describes your pricing and occupancy expectations?

I like a mix of high pricing in peak season and discounts in low season.
Keep the price of my home high no matter what. I prefer high rates over high occupancy.
I'm not concerned about the rate. I want my home to be rented as much as possible.
What length of stay would you like guests to stay in your home for?

I do not have an opinion and trust your judgement as to how long individual reservations should be for. Please manage my home to maximize my revenue.
I prefer shorter stays and would not accept longer stays (30+ nights)
I would accept both shorter says and longer stays (30+ nights)
I only accept longer stays (+30 nights)
Yes/No: I have a nightly price in mind that I would never like my home to go below. (If yes, please specify your preferred minimum nightly rate.)
Frequently Asked Owner Questions
Why are my prices so high/low for a specific time of year?
Beyond Pricing is tracking the supply and demand in the market for any given date in the future. The algorithm will automatically increase or decrease rates when we see that the market demand justifies a price increase or decrease. This ensures we do not leave money on the table by asking for too little during high demand periods or too much during low demand periods.
The algorithm is set to maximize to meet market level occupancy at the highest nightly rate that is competitive compared to the market in an effort to maximize our overall revenue.
Why did we get booked at a rate lower/higher than last year?
Having dynamic pricing means that the prices will be different for every single day. The prices we offer are based on the demand for a specific day. While uncommon, this means that some bookings may come in a bit lower than a comparable reservation from last year. Pricing this way ensures that we put your listing in the best position to be booked again this year.
That being said, we will also see comparable reservations that come in at a much higher rate than last year. These higher nightly rate reservations typically offset any decrease you might find comparing the same booking year over year. 
We suggest reviewing the revenue of your property as a whole year over year versus focusing on specific reservations. Showing your owner they are getting more revenue overall rather than focusing on specific reservations, average daily rates and occupancy levels sets you up for a successful conversation.
Share with owners a screenshot of the Market Data tab of their listing. Owners might ask questions on why they are getting lower or higher rates than last year - you can show them these graphs to explain the trends in the market.
Let's look at an example from the Market Data tab of a listing in Panama City Beach. For the 4th of July holiday in Panama City Beach the vacation rental market was 63% booked last year and this year only 53% of units are booked. Given that we are a month away, which is outside of the normal booking lead time, it is unlikely that the demand will rise up to historically achieved levels, so we can safely conclude that this year's occupancy will be a fraction of the historical. Showing this to an owner will help make it clear that we will need to respond by pricing at lower rates.

Does this mean we have no control over how low prices will go?
Don't worry we have you covered! Beyond Pricing give you the ability to set a Minimum Price (either Seasonally or Annually).
Your Minimum Price is the lowest rate you'd be willing to accept for a night. This is completely up to you. We recommend setting it as low as you feel comfortable. We always recommend setting your Minimum Price to allow for full rate fluctuation in periods of low demand if you feel comfortable doing so. This will help keep your listing competitive to maximize your revenue.
The best way to describe the minimum price to an owner is as the lowest price they would ever be willing to accept during low season. Although, it doesn't mean our suggested pricing will ever reach that point -- Beyond Pricing will always suggest prices that fluctuate around your Base Price given the demand in your market.
Note that a high Minimum Price will likely result in fewer bookings in periods of low demand and limit last minute bookings.
Click here to read more about the Minimum Price.
We need to approve all published rates - how does that work with Beyond Pricing changing rates daily?
In situations where you need your owners approval on all published rates we recommend giving your owner a range of rates per season. To set these ranges in Beyond Pricing you can use Seasonal Minimum prices. Seasonal Minimum prices override Annual Minimum prices by creating minimum rates per season.
Once set you can send to your owner for approval and Beyond Pricing will not push a price below the Seasonal Minimum Price or above the Seasonal Maximum Price. Owners can then expect that the rates will fall within the ranges of each of your set seasonal prices fluctuating from the Base Price.
Let's look at an example from the customize tab. Within the Seasonal Minimum and Maximum Prices dropdown you can set the floors and ceilings on rates by adding the date ranges of your seasons and the minimum and maximum prices.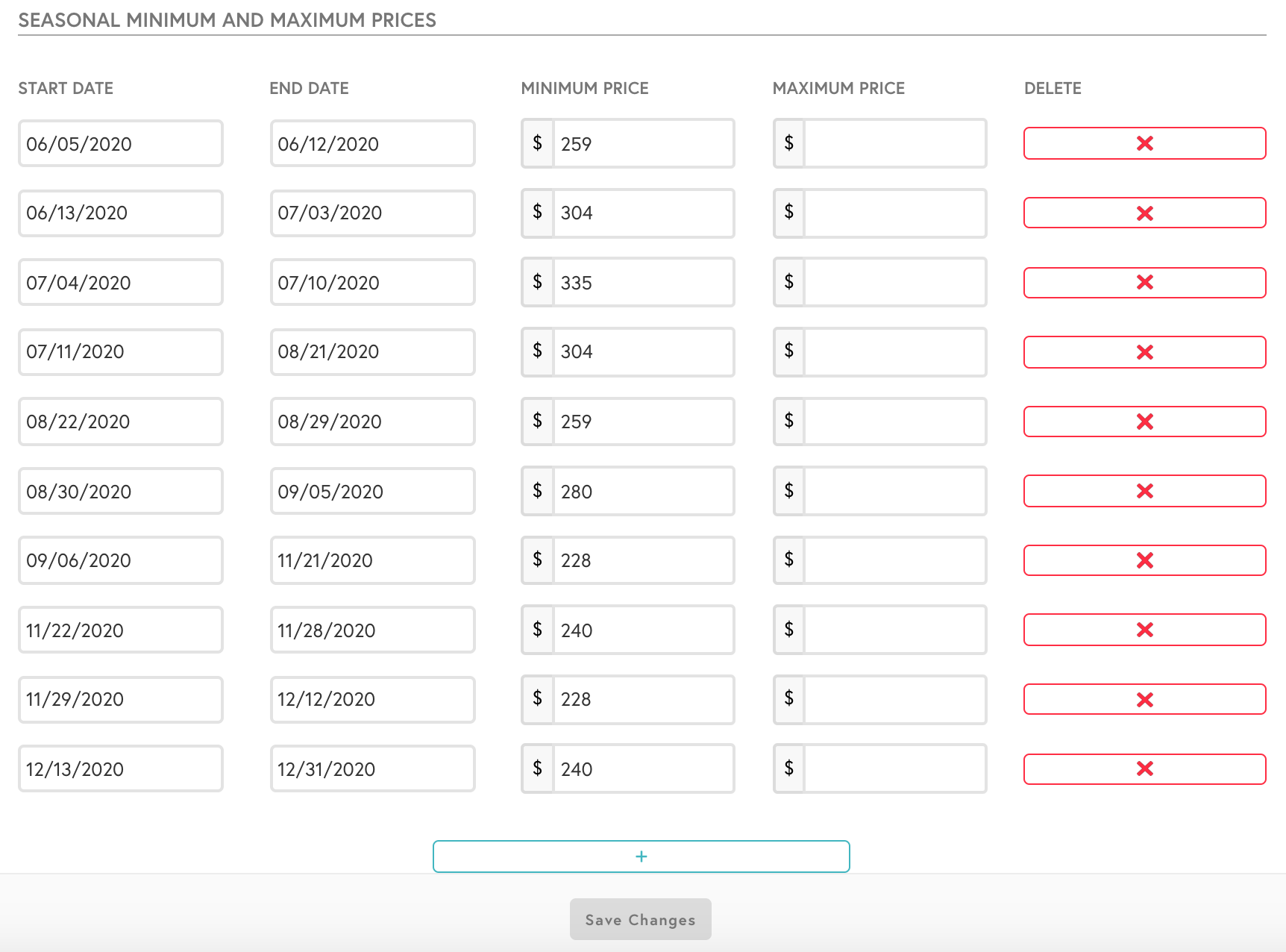 In general, Beyond Pricing does not recommend setting Maximum Prices because you can often get booked at much higher rates than you would expect in periods of high demand. However, ultimately you are the expert on your listings.
Click here to learn more about Seasonal Minimum Prices.
---
---