How do I use the Chart Tab to make pricing decisions? (VIDEO)
The Chart Tab shows you an overview of our predicted pricing for the next 365 days. You can use it to better understand how your rates change based on demand in your market, and to set your Base Price and Minimum Price.
Understanding the Market
The Chart Tab is a great place to see the impact that seasonal trends, day of the week and local events and holidays have on your pricing.
Seasonality
See the suggested nightly price for your listing vary between high season and low season:
Let's take a look at our example listing in Orlando, Florida. We can see that high season is January through May, and low season is June - December (there are some exceptions, but we'll get to that!). So we can see that on Tuesday the 17th of September 2019 (in the middle of low season) we are suggesting a nightly price of $102. If we look at Tuesday the 17th of March 2020 (in the middle of high season) we are suggesting a nightly price of $189.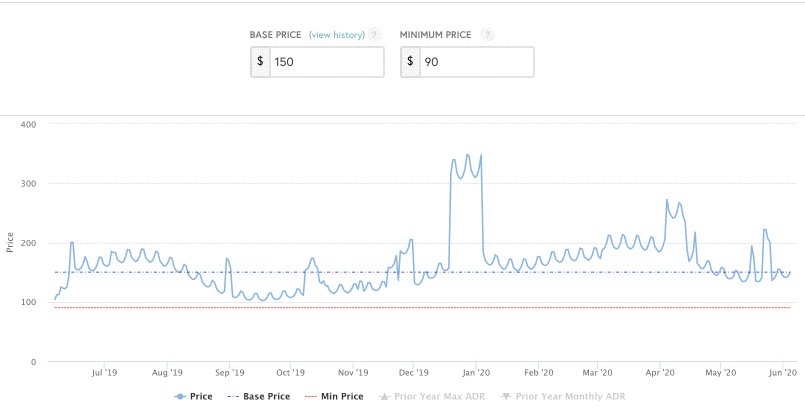 Day of Week
Understand how much demand changes between weekends and weekdays:
The variation between our suggested pricing for weekdays and weekends in Orlando definitely exists, but it isn't as significant as some other markets...
 Orlando

Las Vegas sees much greater variation between weekday and weekend pricing. It's a popular destination all the time, but a very popular destination on weekends!
Las Vegas

Events
See how much we are increasing pricing for specific events:
In Orlando you can easily see that we are increasing prices for Labor Day, Columbus Day, Thanksgiving, Christmas/NewYears, Spring Break and Memorial Day, for example.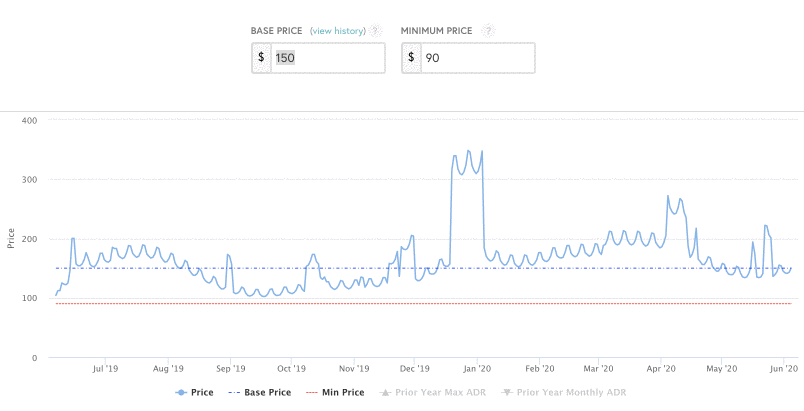 Setting your Base Price
We recommend setting the Base Price for your listing in the Chart Tab. Here you can see the impact that changing the Base Price has on every day for the next year.
So with a Base Price of $150 we are suggesting a nightly price of $173 for August 30th, 2019, for example. With a Base Price of $200 we are suggesting a nightly price of $231 for August 30th, 2019.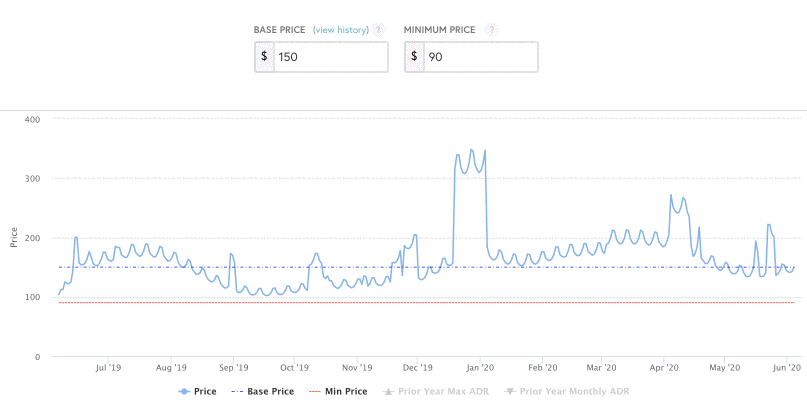 Using Historical Pricing to set your Base Price
On the Chart Tab, you can also see the historical pricing performance of your listing overlaid on your current suggested prices. You can turn on both your Prior Year Max ADR and Prior Year Monthly ADR.
In December 2018 the Max ADR we received was $240. This represents the highest amount you received for a single night and it was probably for a booking during the Christmas/NYE period.In December 2018 the Monthly ADR we received was $173. This means that an average of all the nights we had booked during December was $173.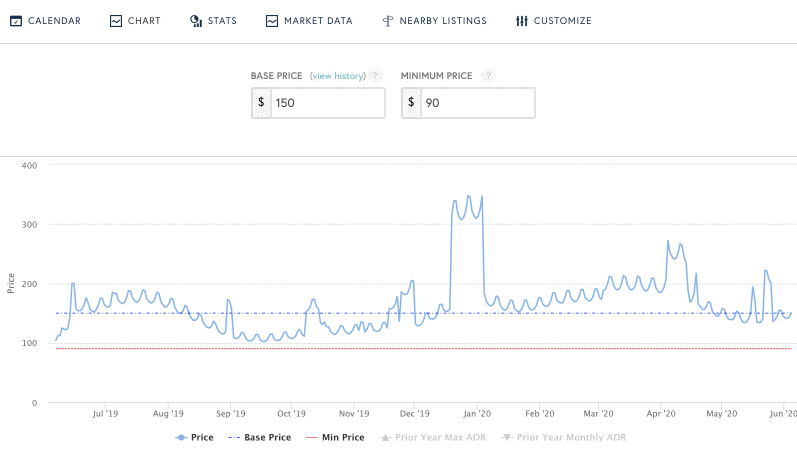 This gives you a good indication of whether or not you are in line with the pricing you had set last year, and whether you are on track to make more money.
Setting your Minimum Price
The Chart Tab is also the best place to see the impact your Minimum Price is having on our suggested pricing.
Your Minimum Price is the lowest rate you'd be willing to accept for a night. This is completely up to you. We recommend setting it as low as you feel comfortable. This doesn't mean our suggested pricing will ever reach that point; rather, it allows for appropriate fluctuation in the daily rate given the demand in your market.
A high Minimum Price will likely result in fewer bookings in periods of low demand and limit last minute bookings.
Your Minimum Price is the lowest price you'll go throughout the entire year. In periods of low demand, we want to make sure that the algorithm is able to suggest prices that are low enough to capture bookings.
For example, with a Minimum Price of $90 our pricing is able to fluctuate throughout September. If I increase the Minimum Price to $120 you can see that we are essentially flat pricing for September.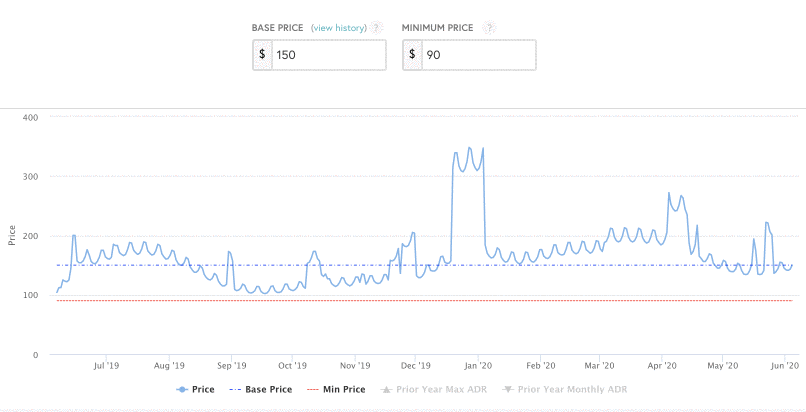 The minimum price is ultimately something that only you know best and you should set it to whatever you feel comfortable with. Our recommendation is to go as low as you can.
---
---