How do I use the Market Data Tab to understand demand trends in my market? (VIDEO)

Once you connect your Airbnb or VRBO listings to Beyond Pricing you have access to all the Market Data we source from a variety of publicly available sites, including Airbnb, VRBO, Expedia, and Booking.com. Looking at this data can help you read demand trends in your market, identify upcoming events and understand when guests book for events.
Here's a breakdown of what each graph on the Market Data tab tells you about your market:
Market Occupancy Charts
Read demand trends in your market
The Neighborhood Occupancy - Last Year graph shows you what occupancy was in your market last year, which gives you a good idea of what to expect this year.
Seasonality
Identify high season and low season for your market:
Let's take a look at our example listing in Palm Springs. Below is a snapshot of future neighborhood occupancy combined with last year's and the average historical occupancy. We can see that last year in the summer and fall, occupancy fell below average occupancy (low season), while in the winter and spring, it rose above average occupancy (high season)...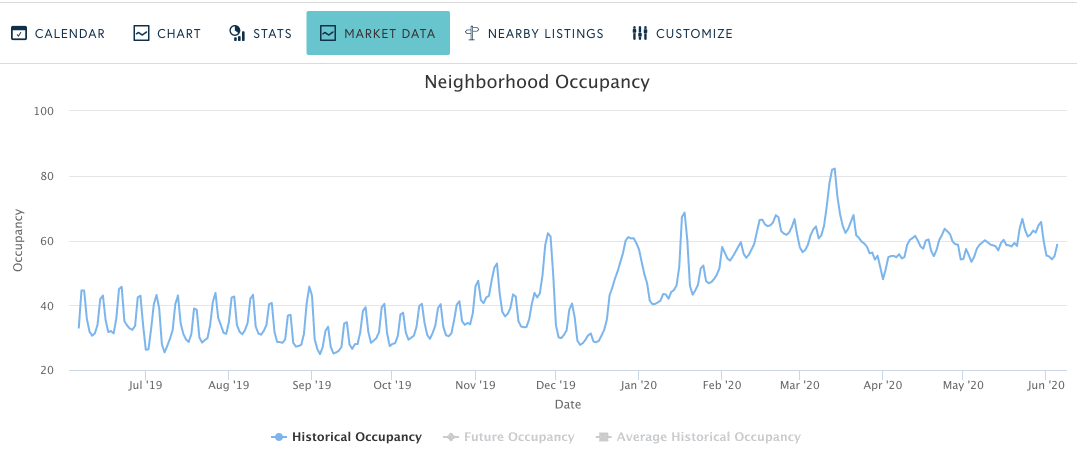 Day of Week
Understand how much demand changes between weekends and weekdays:
...but Occupancy also fluctuates a lot during each week throughout the year. This tells us that Palm Springs is a popular weekend market.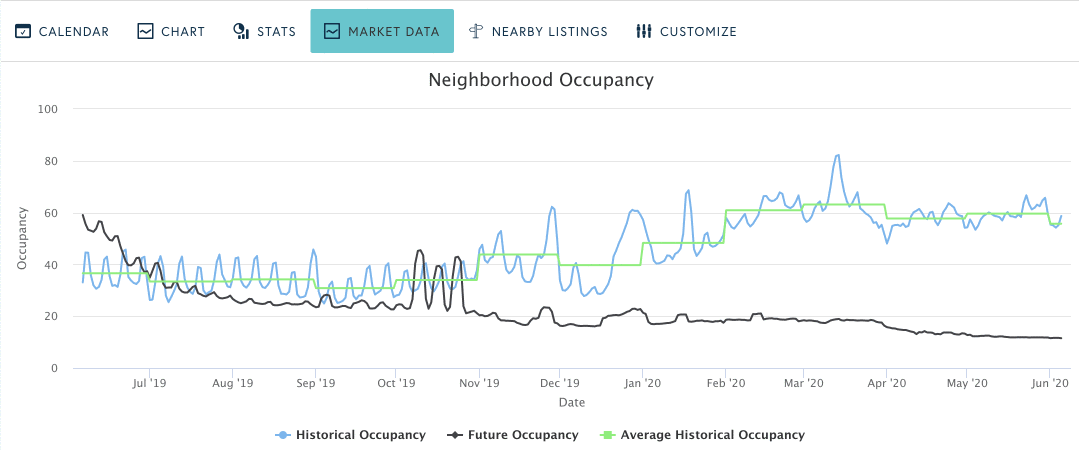 Events
Visualize the impact of popular events:
Coachella music festival was rescheduled in 2020 due to COVID-19. Below we can see the new announced dates driving an unusual October occupancy spike.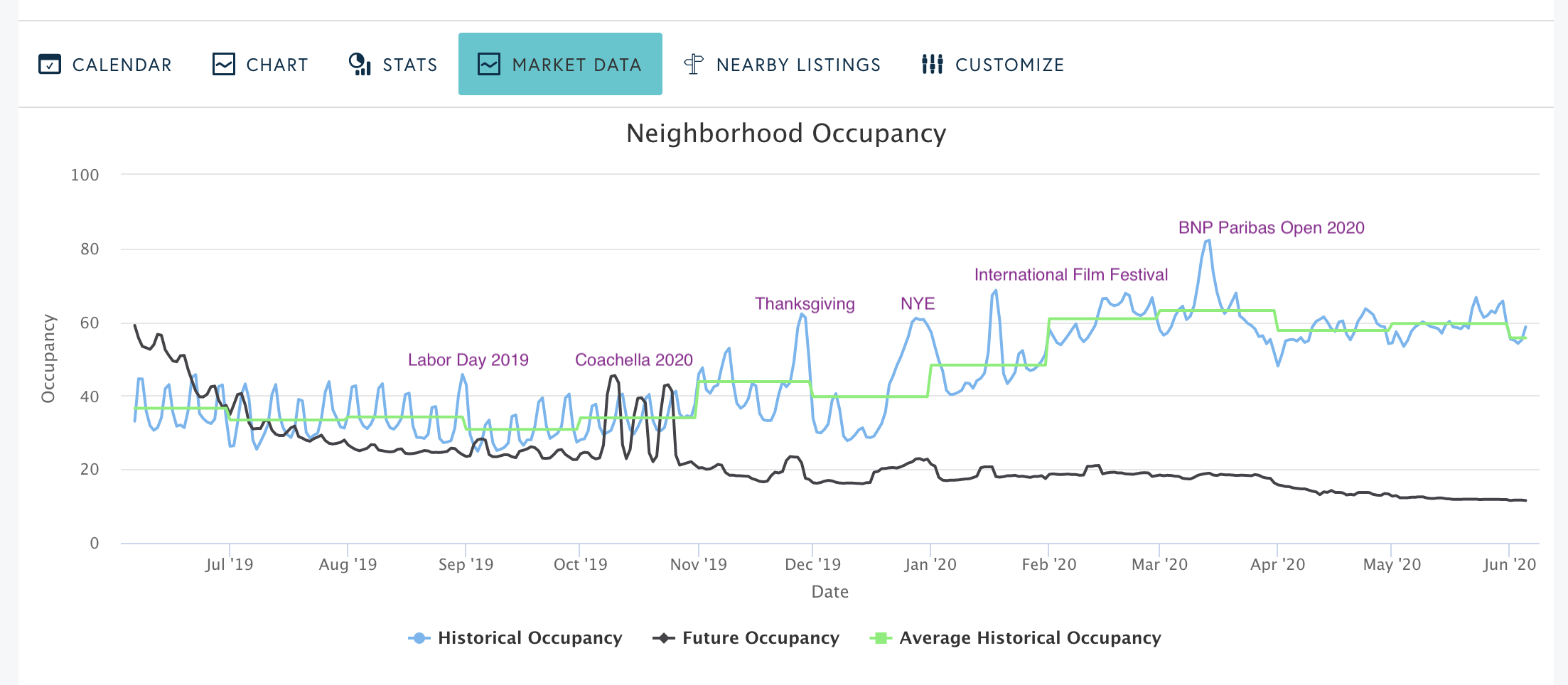 Identify upcoming events
Look to the Neighborhood Occupancy - Upcoming Year graph for a snapshot of occupancy in the market as it stands today. Here we can start to tell if demand is trending the same as last year.
When we observe significant increases in Occupancy relative to surrounding dates, we can identify events or holidays that drive prices up:
Thanksgiving is a major event in Palm Springs. Though it's just June, we can already see those dates fill up more quickly than the surrounding weekends. Let's see how this increase in demand is impacting our nightly rates.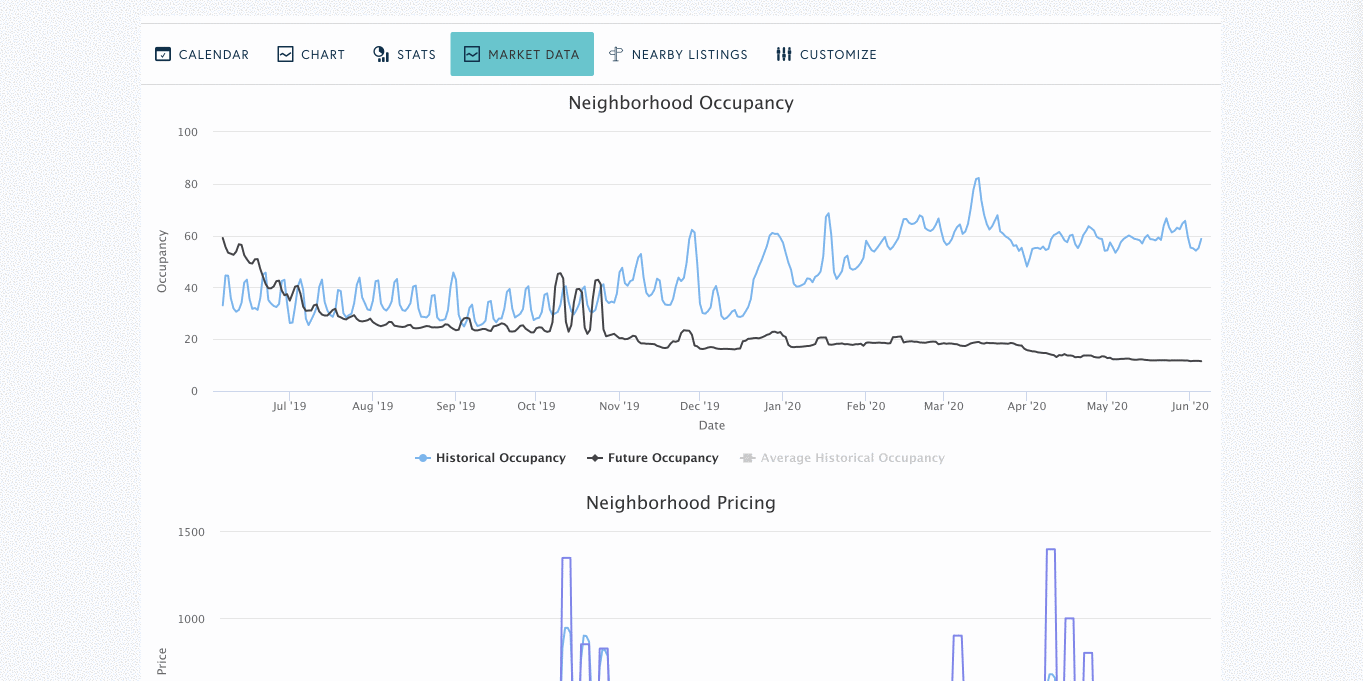 Click here
to learn more about how we suggest nightly prices given Seasonality, Day of the Week, and Local Event factors in your market.
Understand when guests book for events
The Market Data tab is a great place to help you understand how your listing is pacing for significant events.
The Neighborhood Occupancy - Last Year chart gives you a snapshot of how we ended last year, which is the best indication of what occupancy should be this year. If you check the Neighborhood Occupancy - Upcoming Year chart, you can see what percentage of rentals in your market has already been booked for future dates.
Using these two charts together can help you understand how much more of the market you can expect to become booked between now and then.
Looking again at Thanksgiving in Palm Springs, we have observed so far that 1) Thanksgiving has historically been an event that drives demand, and 2) already, Occupancy during Thanksgiving is higher than the surrounding dates, helping us identify the event for the upcoming year. Putting the two together, we see that last year Occupancy rose to 62%, and so far around 23% of places have been booked. That means we can expect ~40% of bookings to occur within 5 months leading up Thanksgiving. This builds confidence that there are a lot of bookings to be made less than a year out!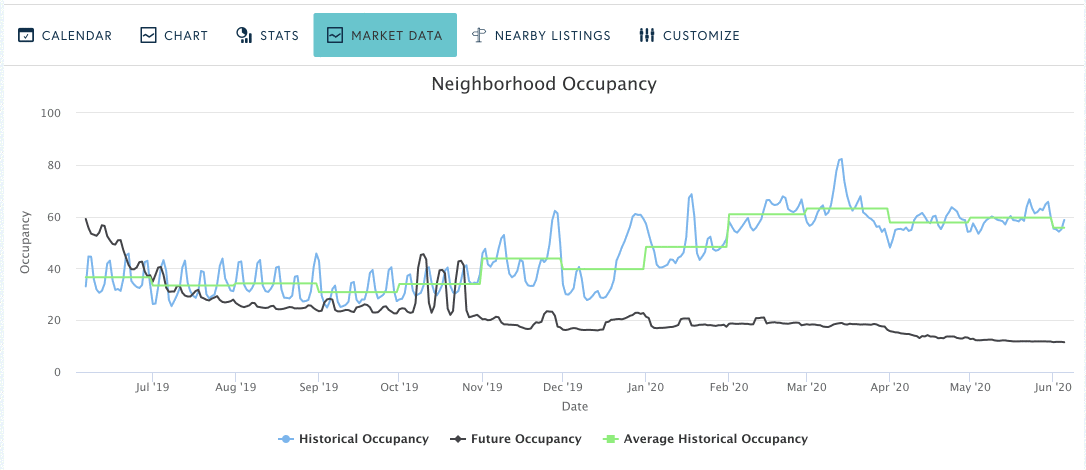 Want to learn more about how to assess your booking lead time?
Click here
!
Neighborhood Pricing
The Neighborhood Pricing graph helps you get a sense of how your pricing compares to the market. It highlights the average pricing for Airbnb and VRBO listings of a similar size and quality in your market.
We don't recommend that you make your pricing decisions based on the average prices of other listings because we don't know what information people are using to make these pricing decisions.
Rather, this is a good way to get a sense of where your listing falls within the market. If it is a more luxury unit, you would expect to be priced higher than the average. If it is a more economy offering, you would expect to be priced a little bit lower.
For the most part, our 2 bedroom in Palm Springs is priced similar to an average 2 bedroom. However, during times of low demand our prices are slightly lower, and during times of high demand our prices are higher. Read more about how Beyond Pricing suggests prices here.

To view similar listings in your neighborhood, check out our
Nearby Listings Tab
. This is especially useful for understanding how your competitors are marketing to potential guests.
Hotel Pricing - Upcoming Year
The Hotel Pricing - Upcoming Year graph shows what hotels in the market are charging for the next 365 days. Hotels have dedicated Revenue Management Teams who identify events much further in advance than the vacation rental market.
We use this information to capture spikes in demand happening six months or more into the future. As we get within six months, we rely less on hotel pricing as the vacation rental market corrects itself.
---
---