Setting Up New Listings in Beyond Pricing
This guide will explain how to get your new listings in Beyond Pricing and the steps you need to take to get pricing flowing into your PMS or channels.
1)Make the Listing Appear in Beyond Pricing (skip if already in dashboard)
Log into Beyond Pricing and click on your email address in the top right hand corner of the screen.

This will take you to the settings page where you will then click on the "Accounts" tab.

The next step is to click on the Refresh button for the corresponding PMS or OTA where you have a newly active listing. This tells our system to look for new listings, new reservations, and updates to existing reservations. The refresh process happens automatically each night, but this button allows for manual control.

2) Customizing the Settings for the Listing
Once the refresh process has finished you can then search for your listing in the Beyond Pricing Dashboard by name.
If you have trouble finding your new listing, please ensure all settings within your PMS or OTA have been satisfied. If you continue to have trouble please reach out to the Customer Support team support@beyondpricing.com
After locating your new listing you'll need to do the following:
Review the Customize tab for any additional settings applicable to your PMS. Click the following links to learn more:

Default/Seasonal Minimum Stays & Gap Fillers (if applicable)
Extra Guest Fees (if applicable)
Check-in/Check-out Days (if applicable)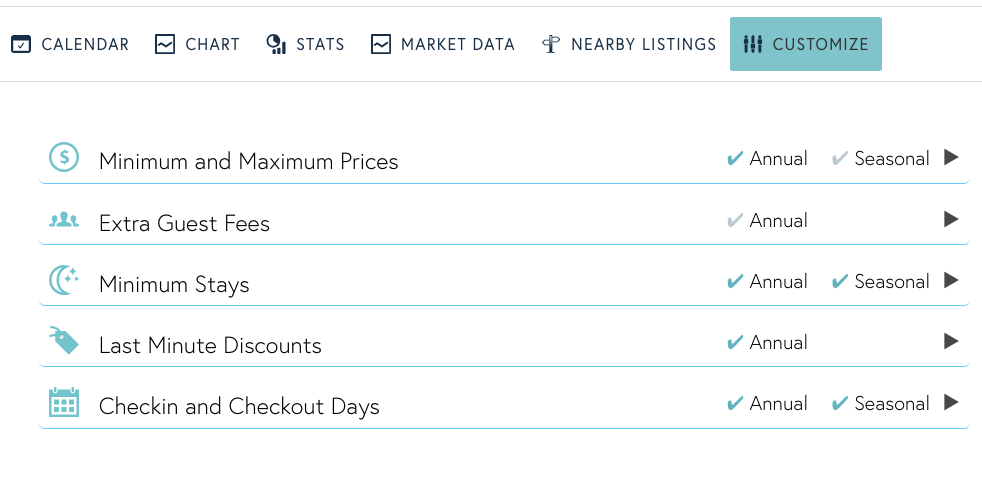 Then go back to the Calendar/ Chart view to Set the Base and Minimum price. To finalize your changes click Save & Sync Prices.

We recommend setting the base price similar to a comparable unit in your inventory to start and then make adjustments from there.
The minimum price should be the lowest price you are willing to take for this listing.
You can always change the base/min price later on

3) Syncing Prices
Once you hit the "Save & Sync Prices" button our prices will begin the syncing process.
Please bear in mind this generally only takes 30minutes to an hour but depending on your PMS & Settings, can take a few hours.
If you do not see prices syncing appropriately please reach out to the Customer Support team support@beyondpricing.com
---
---